July 22, 2009 - 11:02 AM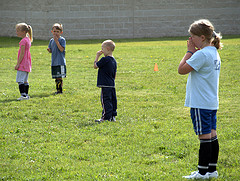 Last night was our last soccer practice for the Northern Lights Soccer League. Our coaching staff said it was a lot of fun, and are bummed that the summer league is coming to an end! Our players are becoming young soccer buffs! They've been learning how to dribble, shoot, and work as a team.
Luke, our head coach, says he's been really impressed by the kids and their hard work! "They are really great kids," he said. "The parents have been a huge support, and their kids are growing in talent because of it!"
We have our last game this coming Saturday at 2PM. There will be a special awards ceremony afterwards, where our players will receive medals for their hard work and participation in the program. If you're in the area, you should come check it out!
We hope to have the program available again next summer! Until then, keep practicing!